Internships, temps and freelancers are undeniably valuable resources, but they can be even more beneficial when looking beyond the immediate assignment needs and paired with other entry-level hiring tactics.
The most effective entry- and junior-level talent acquisition programs use a combination of these strategies: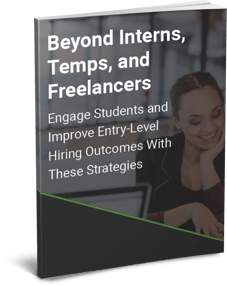 Company challenges

Semester-long consulting engagements

Campus mentoring

Project-based consulting and micro-internships
If your company is struggling with entry-level recruiting, it may be time supplement your internship program, temps and traditional freelance engagements with other initiatives that will help you connect with, evaluate, and hire students and other entry-level job seekers.

Access our ebook to learn more about how you can develop the perfect entry-level hiring strategy for your company.