Overcome the most common growth hurdles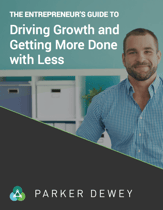 As an entrepreneur, you want to conquer the world, but you know you have to do it with limited resources. And you likely also already know that somewhere between 50 and 90% of startups fail.
What can you do to ensure you're one of the success stories?

Quickly overcome the everyday hurdles you encounter as an entrepreneur with our compilation of proven growth strategies:
Find time for the "we should..." projects that you can't ever seem to get to

Stop getting stuck working in your business instead of on your business

Prevent employee burnout

Avoid poor talent and cultural fit


Download the ebook to learn how you can
get more done with less.