👋 Welcome from Parker Dewey!
As the largest network of highly motivated college students and recent graduates who are excited to complete short-term, professional assignments, we know campus recruiting!
The information in Campus Recruiting 101 for Employers will help you create a new campus recruiting program, modernize an existing campus recruiting program, and learn best practices for attracting college students and recent graduates.
Our mission is to provide meaningful opportunities for Career Launchers to add to their resumes, while helping organizations get work done. If you're passionate about this too, please join our email newsletter HireLearnings and follow us on social!
What is Campus Recruiting?
Campus recruiting is a specialization in talent acquisition to identify, attract, and hire college graduates for entry-level, full-time employment. Traditionally, most campus recruiting activities take place in-person at a target school through partnerships with offices of career services, career fair events, and information sessions held for prospective applicants. More recently, campus recruiting efforts extend online, throughout social media, and across platforms with a goal of attracting the best and brightest students. In addition to full-time roles, many companies also utilize campus recruiting programs to attract talent for internships and management training programs.
Campus Recruitment Funnel
Recruitment and marketing funnels generally have at least four stages: Attract, Convert, Close, Delight. In the Attract stage, the earliest stage of the funnel, recruiters create content and experiences that build awareness and generate interest of their target candidates. In the Convert stage, recruiters share internship full-time, and management training opportunities with candidates highlighting what it takes to succeed in the given role and at the company. In the Close stage of the recruitment funnel, recruiters facilitate interviews, assessments, and real-work experience to provide candidates with a glimpse into what life is like as an employee. Finally, the Delight stage includes all of the services and benefits offered by Human Resources and the company including onboarding and training that help a new hire feel satisfied in their decision to join the company. Executed correctly, a campus recruiting funnel should drive new employees to refer candidates from their personal and alumni networks, helping the recruitment team succeed in their hiring goals.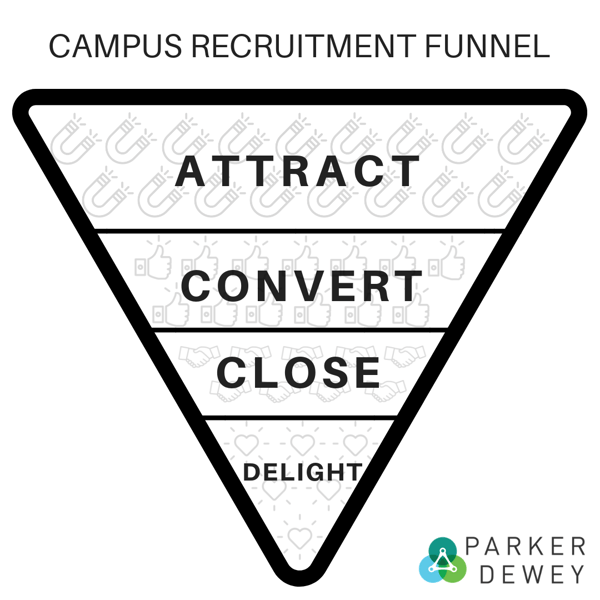 What types of companies have campus recruiting?
Campus recruiting is extremely popular in finance, technology, and consulting sectors, with large enterprise corporations like Microsoft, Bank of America, and Deloitte having a strong presence at schools across the country. Despite big budgets and resources from global companies, small and medium sized business can also benefit from campus recruiting if they have a high volume of entry-level jobs that require core competencies to be successful.
Should my company have a campus recruiting plan?
Your company should have a campus recruiting strategy if you want to engage with emerging talent and recognize the benefits of growing talent for future leadership roles.
Benefits of Campus Recruiting
The biggest benefit of campus recruiting is in acquiring talent that can learn, grow and develop as a professional with your organization. Even before joining the workforce, college graduates often have a foundation of technical and core skills that businesses rely on. Additional benefits include:
Expose your brand to a young adult demographic
Attract diverse talent
Hire employees that can grow into leadership roles
Higher quality of talent
Outperform competition with a highly motivated team
Succession planning through leadership development
Cost savings hiring for potential over credentials
Higher employee retention as a result of training and development
Campus Recruiting Mistakes
Like any scalable initiative, an effective campus recruiting program requires planning and follow through. According to Marsha Forde, Director of Human Resources at Workopolis, "The most common mistake is hiring without a work plan for student, or worse yet, assuming they can handle menial tasks in the office. Students are smart, creative, and ambitious. They have a lot to contribute, and by giving them access to meaty projects, and strong mentors who can help them learn and develop, they will not only develop a sense of loyalty to your company, they will also become important brand ambassadors."
Basic Campus Recruiting Strategy
If you're just getting started with campus recruiting, you will want to make sure you are following best practices and enacting a few basic strategies.
Identify target schools most likely to have best-fit talent:
One way to determine this is to poll your existing high performers and understand where and what they studied. Their role as an alum can be a powerful motivator for a student to learn more about your organization. Another way to determine target schools it to reach out to colleges and universities closest to your office. You can learn about the programs offered and what types of work their graduates succeed in to determine if the students will meet your hiring needs. Finally, you may choose to go the opposite route and identify target schools based on finding talent that is diverse from your existing team. This will open up your team to new ideas and fresh perspectives and diversity has been found to improve business performance.


Build relationships with offices of career services:
Many schools have unique guidelines and rules that must be followed for outside organizations to interact with their students. In addition to understanding campus policies, career services can also provide you with volunteer opportunities to interact with students such as resume review workshops and mock interviewing. Finally, career service professionals can be your best partner in recruiting college graduates by acting as a liaison between you and the students and even in helping to identifying potential candidates when you share the key traits and core skills most valued by your company.


Attend career fairs on campus:
The number one strategy for campus recruiting is going on-campus to meet and inform students about your company and the opportunities you offer. The most important thing to bring to an event are alumni or recent hires that can speak to what drew them to the company and what it's like to work there in an authentic way. You'll also want to either bring an easy way for students to learn more, like a brochure or business cards with contact information, or have a way to collect student's contact information to follow-up.